---
Welcome to the Apr--Jun 2016 Project. It has been a some time since we've done a portrait. I'm thinking it is time to get back to that subject. So, with great trepidation, this project is going to be a portrait. Your painting must be painted specifically for this project and be watermedia. Submit your images to me via email. Send title and comments about the paintings and painting process. Let me know if it is okay to link your email address when I add your image to the project page. Also, if you have a web site, send that address so that I can link it also. The project end date is Jun 30, 2016.
---
The images on this page are protected by copyright law. Any use without the expressed consent of the artist is prohibited!!!
---
---
Maury Kettell
"Anna"
This is Anna who is an artist in her own right. I took a photo of her at my painting table, working on a watercolor. Not sure I did justice with this painting, but portraits are not my strong suit. That is part of the reason I chose this project-it is good when we are moved out of our comfort zone. Size is 16" x 20" on Arches 140# cold press.
---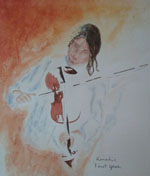 Mary Maltman
"Kenedi's first year"
Thank you for providing this opportunity for artists.
---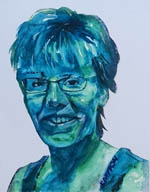 Karen Bryson
"Self Portrait"
I've been putting this off for quite some time, as I haven't done a portrait in well over a year. At this point in time, I don't plan on doing any more, lol. I chose myself as the subject for this one. I haven't done a self portrait since high school, and I don't feel confident enough to tackle anyone else. The way I see things in my head, and what I actually get down on paper, are often quite different these days. It was great therapy though, thank you for the project! 8 x 10
---
Eric English
"Untitled"
Thank you for the challenge your projects give me and the hosting of the art on your web site. This triple portrait of my wife and her two horses was painted on Arches cold press, 140 lb and is 10.5" X 14"."
---
More Images to Come
---
---