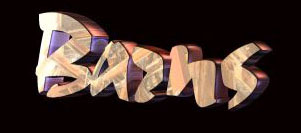 ---
Welcome to the Jan-Mar 2014 Project. The theme for this project will be "Barns." The painting you submit must be painted specifically for this project and be watermedia. Submit your images to me via email. Send title, size, and comments about the paintings and painting process. Let me know if it is OK to link your email address and your web site when I add your image to the project page. The project end date is Mar 31, 2014.
---
The images on this page are protected by copyright law. Any use without the expressed consent of the artist is prohibited!!!
---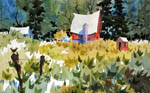 I painted this barn about 6 years ago when I first started painting but didn't like it. The barns project gave me the idea to paint it again. I think I have now painted every barn on the island. This is a half sheet. And it is way better then the first time I painted it.
---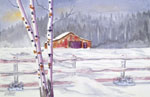 Painted on Saunders Waterford, 9 x 13 image size. Da Vinci transparent watercolors with a touch of white Gouache. This is from a photo by Vincent Whitehead off the Paint my Photo web site. Copyright free.
---
A cold winter's day on arches 140 lb. Thanks for the opportunity to share.
---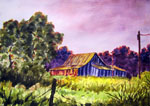 I started my watercolor life using old barns as watercolor subjects, and it was good to get back. This particular painting was from a photo I took while living down in Alabama--plenty of old barns and share cropper shacks down there. I push the color a bit more to give the painting some punch This was painted on Arches 140# rough, size is 15" x 22". I use Daniel Smith and Winsor Newton watercolors.
---
I painted this about 10 years ago and it always seemed rather drab. So I tried again and as you said, "punched up the colors" and changed my composition. I am glad you inspired me to try it again. This was done on a half sheet of Archers paper with mixed water colors.
---
This is 11x17 from a couple photo references by my dad..
---
While I was in North Carolina, I noticed many of the barns have quilt squares on them. I found out later that many people are participating in a project to put different squares on barns across the state. It was fun to find them on my travels.
---