---
Welcome to the Oct -- Dec 2014 Project. If everyone is like me, painting time is hard to come by during the summer. Too much to do--for me camping, fly fishing and grandkids. Yet, during my adventures, I always seem to find interesting subjects--I spend a lot of time looking for old rusted things, and that brings me to the theme for this project "Rust." Your painting must be painted specifically for this project and be watermedia. Submit your images to me via email. Send title and comments about the paintings and painting process. Let me know if it is okay to link your email address when I add your image to the project page. The project end date is Dec 31, 2014.
---
The images on this page are protected by copyright law. Any use without the expressed consent of the artist is prohibited!!!
---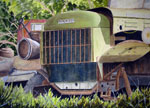 Maury Kettell
"So Shortly Live"
I spend a lot of time on the road during the summer and always have my camera handy, just in case I see something that might make a good painting. I found this old derelict durning my travels in the summer of 2013. The size is 32"x43." It is on Arches 140lb cold press with Winsor Newton and Daniel Smith watercolors.
---
More Images To Come
---
---
Deborah Holmes
"Untitled"
Attached is my rusty project which I might add I seemed a bit rusty at. Ha! Ha! This project was painted with watercolor and pen and ink for the texture. Lots of ink stippling. Also used some salt dropped onto the wet paint. This is part of old antique gears from a tractor. While I am at it I will wish everyone Happy Holidays.
---
More Images To Come
---
---